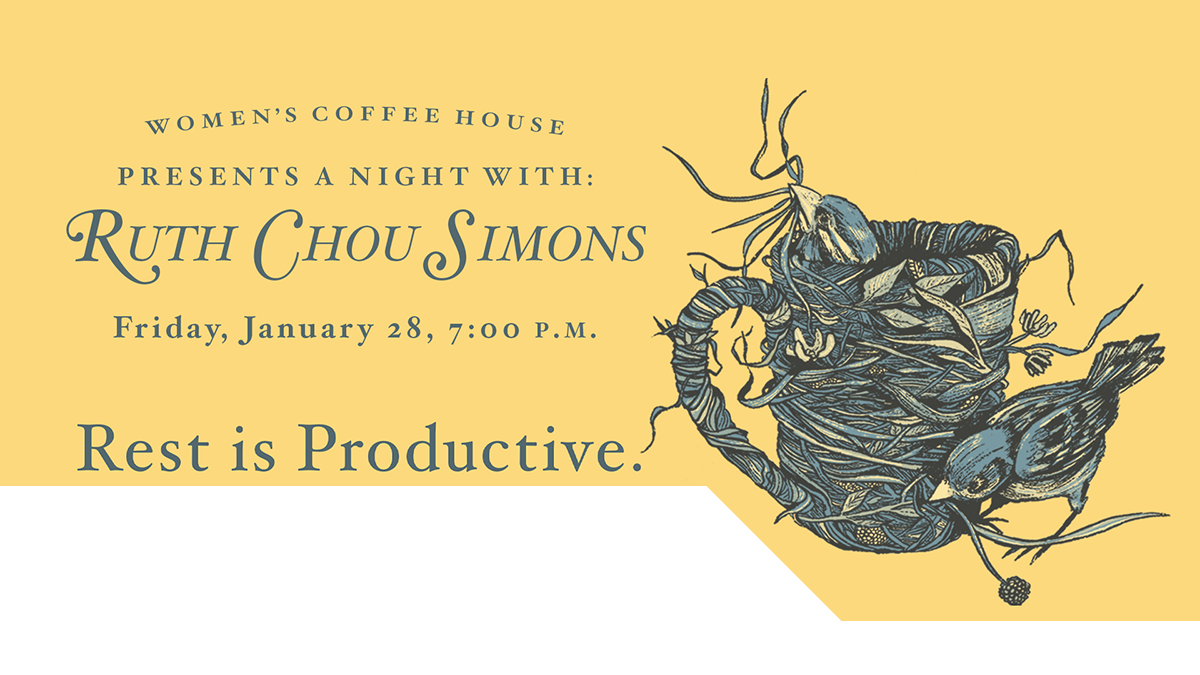 (doors open at 6:30pm)
IBC Worship Center
While it's freezing outside, come and enjoy the warmth of our Coffeehouse. The night will include the perfect blend of gourmet desserts, a coffee bar, and sweet fellowship!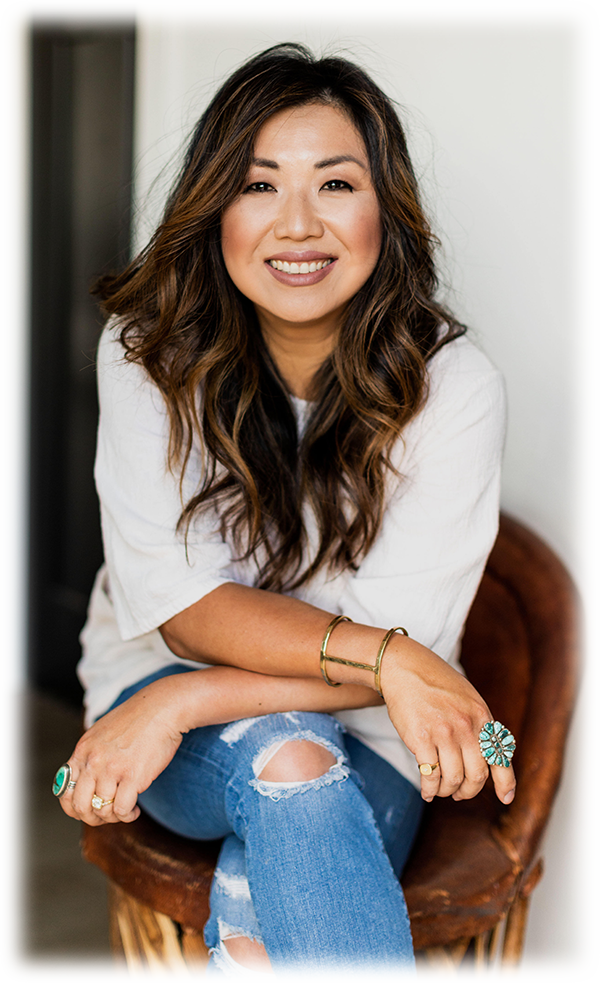 The coffeehouse will feature Ruth Chou Simons.  Ruth is an artist, entrepreneur, and speaker who uses each of these platforms to help spiritually sow the Word of God into people's hearts.  We are thrilled to have Ruth with us for this special evening.
The theme for our evening is Rest Is Productive. In a world that rewards hustle and holding people's attention online, it's tempting to work nonstop, keep trying harder, and strive in our own strength… but never rest. The beauty of the Gospel is that God provides the true soul rest for which we long. When we discover that rest, we can finally lay our strivings down. Let's discover together that rest is more productive than we think!
The cost is only $5 - so invite a friend or two! Here's your chance to treat that neighbor, co-worker, or new friend and pour a cup of friendship into her life.
Register online (and you will also be able to pay in the Bookstore.) 
An event like this takes many hands.  If you would like to help at the Coffeehouse, please email Bethany Drum at This email address is being protected from spambots. You need JavaScript enabled to view it..
Sorry, no childcare will be provided during the Coffeehouse.
Coffeehouse FAQs
What will the night look like?
The evening will start in our spacious Worship Center. Women will be warmly welcomed by our emcee for the evening, Deedee Collins and we have a few surprises in store before we hear from our main speaker, Ruth Chou Simons.
Following the time in the Worship Center, we will be dismissed to our spacious Atrium where there will be an opportunity to enjoy conversations with other women as well as a delicious coffee bar and gourmet treats. In addition, there will be a pop-up shop where you can purchase Ruth's many books, studies, prints, note cards, and more.
Who is Ruth Chou Simons?
Ruth Chou Simons is a Wall Street Journal bestselling and award-winning author of several books, including GraceLaced, Beholding and Becoming, and When Strivings Cease. She is an artist, entrepreneur, and speaker, using each of these platforms to spiritually sow the Word of God into people's hearts. Through her online shoppe at GraceLaced.com and her social media community, Simons shares her journey of God's grace intersecting daily life with word and art. Ruth and her husband, Troy, are grateful parents to six boys—their greatest adventure.
Who can attend?
Coffeehouse 2022 is open to all women, young and old. We encourage each woman attending to bring a friend. Teenage women through Grand Life are welcome to attend.
How much does it cost to attend?
Admission is only $5. With the cost so reasonable, you can invite a friend or two! This is a great opportunity to invite that neighbor, co-worker, or friend that you've been wanting to bring to church, but you haven't found the right event or the courage to do so.
What kind of beverage/food will be available at the Coffeehouse?
What better way to warm up and enjoy conversation than with fabulous coffee drinks, delicious treats, and desserts (some gluten free and dairy free options will be available.) We will have baristas to serve the coffee.
How long will the evening last?
The event will run from approximately 7:00pm until 9:00pm.
Will childcare be available?
No, unfortunately childcare will not be provided during the Coffeehouse. If this is a real hardship that would prevent you from coming, please email Bethany Drum here.
What if my guest is not a Christian?
We welcome all women to attend! This is a great opportunity to give our friends, neighbors, co-workers, and family a glimpse of the rest and beauty we can only find in the Gospel of Jesus Christ. Our theme of finding true soul rest will resonate with all women given the season we are in right now. It will be a relaxed and inviting atmosphere where we will hear how we can only find rest and hope in God in the midst of an uncertain and challenging time.
What if I cannot attend in person? Will I be able to hear Ruth speak?
Yes! We will video the portion of the Coffeehouse where Ruth speaks. It will be available on our website within a few days of the Coffeehouse.
Will there be a space where I will feel comfortable if I have Covid concerns?
We will have our balcony open and encourage women seated in this area to wear a mask.