Immanuel Women's Ministry
Presents…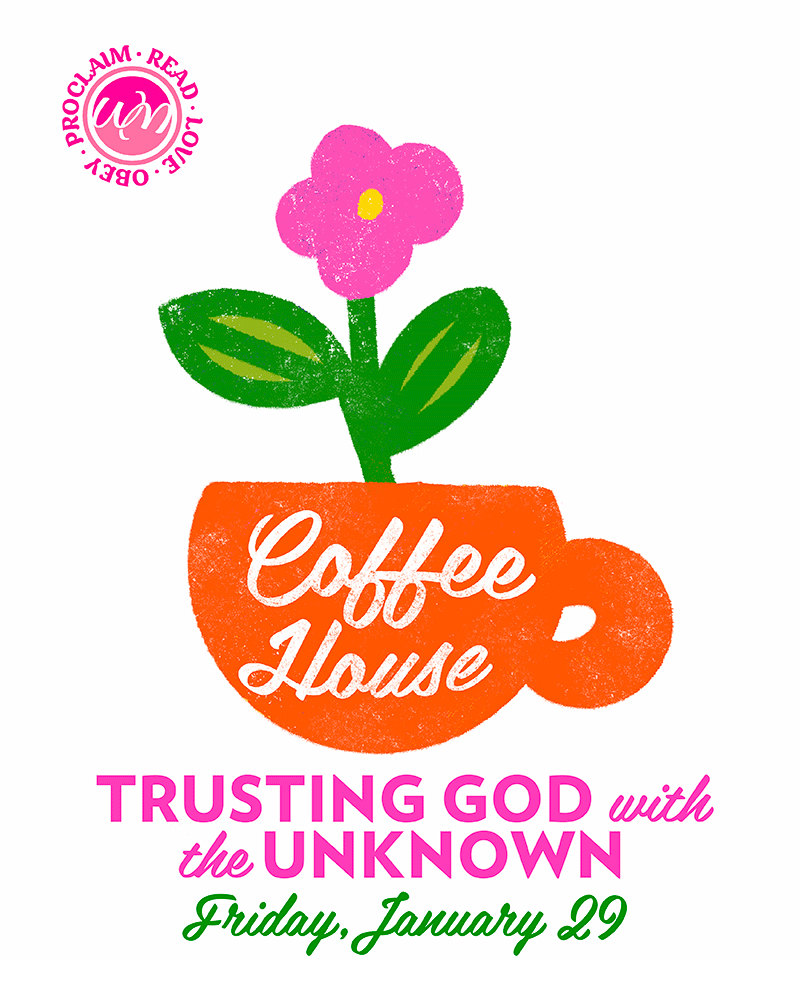 7:00 PM (doors open at 6:30pm) | Worship Center
(snow date – February 5)
It may be freezing outside, but it will be warm and inviting at our Coffeehouse.
As with so many other things, Coffeehouse 2021 will be reimagined. Due to health and safety concerns, it will look a little different but will still include the perfect blend of gourmet desserts, coffee, and sweet fellowship. Plus, we have a few new things planned.
The theme for our evening is Trusting God with the Unknown. Our speaker. Gwen Traficant, is no stranger to facing many unknowns as she has been a caretaker for her husband and daughter who have both had two liver transplants. Gwen will be sharing about how we navigate life's what-ifs and anticipate God's provision.
With so many hardships this past year, we have chosen to make the Coffeehouse free of charge. While there is no cost for it, there is an opportunity to give to a local partner ministry that serves women facing crisis.
Since this is a free event, it is the perfect opportunity to invite a friend! Here's your chance to treat that neighbor, co-worker, or new friend and pour a cup of friendship into her life. Treat someone you know to an evening of gospel-centered hope.
Though there is no charge, we still need to know you are coming. Please RSVP here. If you have questions, please contact the Women's Ministry office at 703-813-1955.
An event like this takes many hands. If you would like to help at the Coffeehouse, please email Bethany Drum at This email address is being protected from spambots. You need JavaScript enabled to view it..
Sorry, no childcare will be provided during the Coffeehouse.
Coffeehouse FAQs
What will the night look like?
Coffeehouse 2021 has been reimagined for this COVID-19 season. We will start the evening in the Worship Center where there is plenty of room to sit socially distant. We will ask everyone to wear face coverings as we do on Sunday morning worship services. Women will be warmly welcomed by our emcee for the evening, Marty Crabtree and we have a few surprises in store before we hear from our main speaker, Gwen Traficant.
Following the time in the Worship Center, we will be dismissed to our spacious Atrium where there will be an opportunity to enjoy conversations with other women as well as a delicious coffee and gourmet treats.
Who is Gwen Traficant?
Gwen Traficant has been married to her college sweetheart and best friend for 36 years and is the mother of two adult children. She is a teacher by trade with a Bachelor of Science in elementary education, but her most significant role has been that of the family caregiver spanning 28 years and five liver transplants.

Her desire is to encourage caregivers and those who are hurting to experience God's love, mercy and grace through a growing, personal relationship with Jesus.

She enjoys traveling and experiencing other cultures, boating, snow skiing, reading, cooking, spending time with her family, and hosting friends in her home.
Who can attend?
Coffeehouse 2021 is open to all women, young and old. We encourage each woman attending to bring a friend. Teenage women through Grand Life are welcome to attend.
How much does it cost to attend?
Admission is free this year! This is a great opportunity to invite that neighbor, co-worker, or friend that you've been wanting to bring to church, but you haven't found the right event or the courage to do so.
While there is no cost for the Coffeehouse, there will be an opportunity to donate an item for a local ministry near and dear to our church – Assist Pregnancy Center. Please consider bringing a pack of disposable diapers (sizes 0-2) or a pack of wipes. This is completely voluntary and not a requirement to attend the Coffeehouse.
What is Assist Pregnancy Center?
Assist Pregnancy Center exists to promote life through Christ to those vulnerable to abortion. By supporting women through free medical care, support, counselling, and material resources, Assist strives to encourage women to choose physical life for their unborn children, and eternal life in Christ.
What kind of beverage/food will be available at the Coffeehouse?
What better way to warm up and enjoy music and conversation and then to enjoy fabulous coffee drinks with delicious treats and desserts (some gluten free options will be available.) We will have baristas to serve the coffee and will serve individually packaged desserts in accordance with church health and safety guidelines.
How long will the evening last?
The event will run from approximately 7:00pm until 9:00pm.
Will childcare be available?
No, unfortunately childcare will not be provided during the Coffeehouse.
What if my guest is not a Christian?
Well first - great job for extending the invitation! We encourage these invites. This is a great opportunity to give our friends, neighbors, co-workers, and family a glimpse of the hope and beauty of life in Christ. Our theme of trusting God with the unknown will resonate with all women given the season we are in right now. It will be a relaxed and inviting atmosphere where they will hear how they can trust God in the midst of an uncertain and challenging time.
Will I be able to attend the Coffeehouse virtually?
Yes! We will livestream the program portion of the Coffeehouse in the Worship Center. The livestream portion will begin at 7:15pm. You will be able to access the Coffeehouse through our IBC Facebook page and we will also make a link available the week of the Coffeehouse.