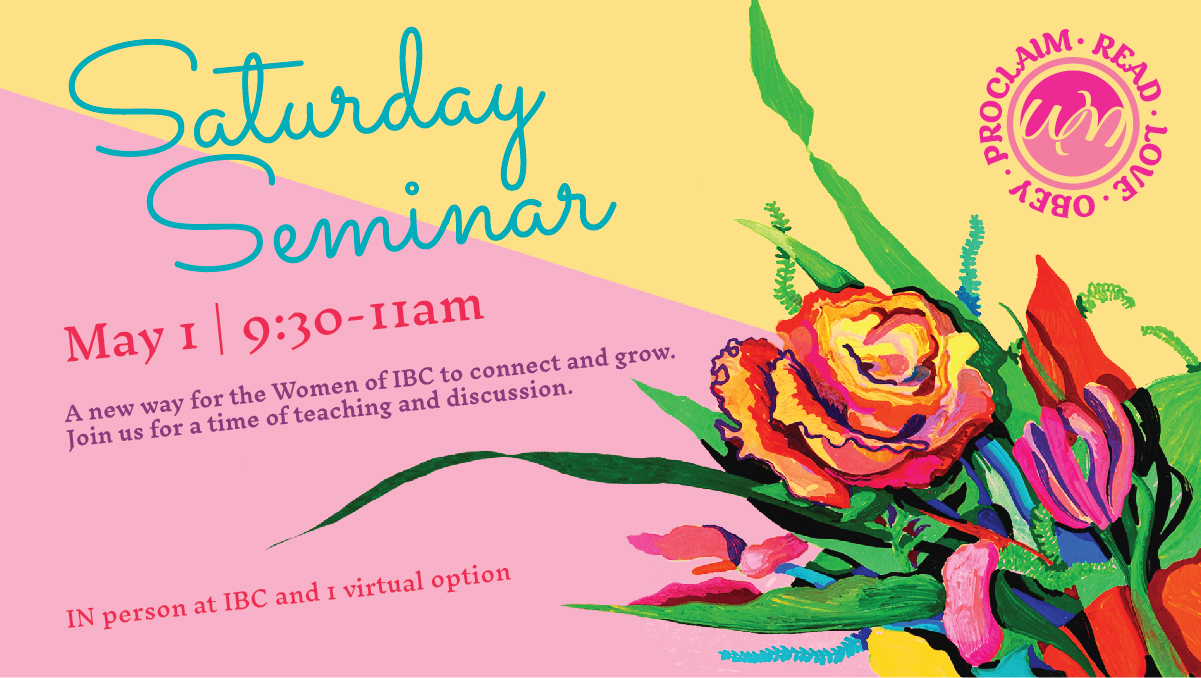 Women's Ministry invites you to join us for a new way for the women of IBC to connect and grow. Saturday Seminar will take place on May 1, 9:30-11am. We will be hosting a few seminars in person as well as one virtual option. Topics that morning will include:
Biblical Womanhood in an Upside-Down Culture
Gospel Conversations
An Introduction to Systematic Theology 2.0
Book Club Using Messy Beautiful Friendships
Our desire is to help you stay connected as well as grow in your knowledge of Christ and His Word and how you can serve the church and each other. We hope you will join us for a time of teaching, discussion, and connection at Saturday Seminar!
You can find out more and register below (will be available soon). There will be a cap for most seminars so sign up soon!
Seminar Descriptions
An Introduction to Systematic Theology 2.0
How do you respond to the word theology? Assume whatever follows is going to be boring...eagerly anticipate being challenged...feel completely overwhelmed and have no idea where to even start? R. C. Sproul says, "Since we all have some idea of who God is, each of us is engaged in theology and everyone is a theologian. The question is, will we be sound theologians or unsound theologians?" Join Wendy and Jay Blackwell to delve into this topic so we are equipped to walk, not as unwise but as wise (Ephesians 5:15).
This seminar will be in person at IBC in the Atrium. (Cap – 100)
Biblical Womanhood in an Upside-Down Culture
Gospel Conversations
Using your unique personality and relationships to invite others to Jesus
Book Club Using Messy Beautiful Friendship (virtual)