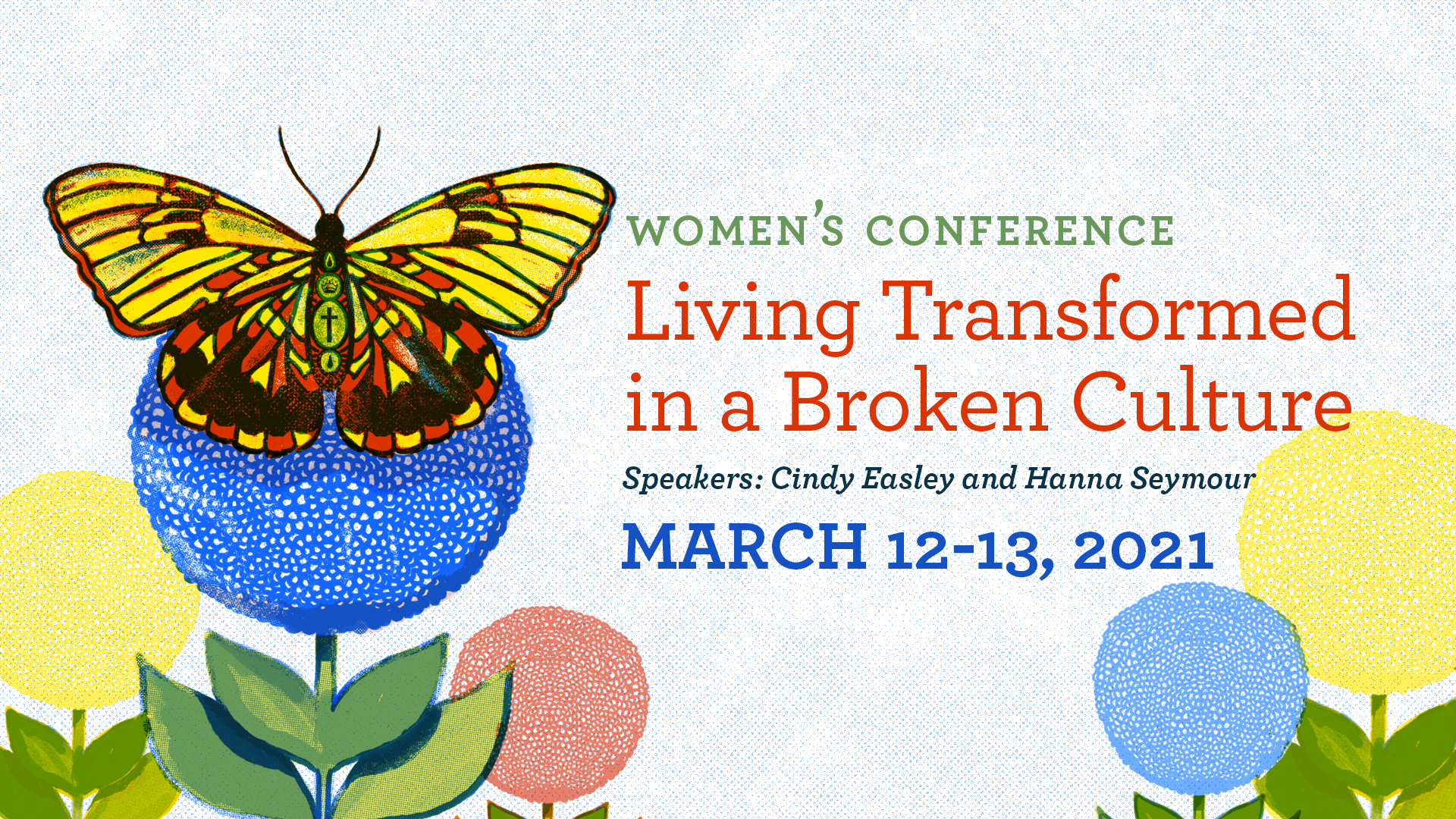 Join the Women of IBC for the 2021 Spring Conference
"Living Transformed in a Broken Culture"
March 12-13, 2021
Immanuel Bible Church
6911 Braddock Rd, Springfield, VA 22151
IBC Women's Ministry is excited to announce the rescheduled Women's conference--now taking place March 12-13, 2021. We look forward to seeing you there.
We live in a broken culture, fragmented and divided with no standard for Truth. Our Biblical worldview is under attack and everywhere we go loud voices tell us what to think, what to believe and how to live. How do we stand firm in Truth and Grace in the midst of shifting cultural mores? How shall we then live?
Thankfully, God has not left us alone or unprepared. We have His wisdom recorded by Paul in Romans 12, to help guide our hearts and minds. Join us as we learn to think clearly, love authentically and, as far as possible, engage peacefully with those whom we disagree.
And do not be conformed to this world, but be transformed by the renewing of your mind, so that you may prove what the will of God is, that which is good and acceptable and perfect.
Cindy Easley
Cindy is a Bible teacher and nationally known speaker with the Family Life Weekend to Remember Marriage Conference, women's conferences and retreats. Cindy is the author of Dancing with the One You Love: Living Out Submission In The Real World (Moody Publishing). She has been featured in both radio and television programs, including Moody Broadcasting Network's Prime Time America, Revive our Hearts, Midday Connection, Janet Parshall's America, Chris Fabry Live, Family Life Today and Focus on the Family.
Cindy is married to Michael Easley. They have four grown children, two sons-in-law, and two perfect grandsons. She is also an award-winning real estate agent in the greater Nashville, TN area.
Hanna Easley Seymour
Hanna Seymour is an author, speaker and podcaster. Hanna writes and speaks from a Biblical perspective about being the person God designed you to be, no matter your circumstances. Her book, The College Girl's Survival Guide contains the answers to the top 52 concerns of college girls today and is packed with down to earth, biblically-based advice. She has been featured on radio, television, and podcasts including: Fox &Friends, The John Ankerberg Show, Family Life Today, Michael Easley inContext, Girls Night with Stephanie May Wilson and more. 
Hanna lives in Franklin, TN with her husband, Tyler and their two boys. You can learn more about Hanna at hannaseymour.com.
Conference Agenda
FRIDAY, MARCH 12
6:30 pm: Doors Open
7:30 pm: Session 1 with Cindy Easley
9:00 pm: Dessert Reception
SATURDAY, MARCH 13
8:30 am: Doors Open
9:00 am: Session 2 with Hanna Easley Seymour
10:15 am: Break
10:45 am: Session 3 with Cindy Easley
12:00 pm: Lunch
1:30 pm: Breakout Sessions
2:30 pm: Official conference close
Breakout Sessions
Session 1: Spiritual Adulting
Description: Are you just growing older or are you maturing? Spiritual maturity doesn't come with age, it comes with intentionality. This session will be a guided time of reflection, sharing, and goal setting as we look at who we want to be and how we aim to get there.
Session 2: Standing Firm in a Broken Culture
Description: Join our panelists as we discuss how believers can reflect Christ and stand firm when the prevalent views of the mainstream culture are in direct opposition to the truths of the Bible.
Session 3: Living Peaceably with All
Description: Come and learn what the Bible says about how Christians are to resolve conflict with both believers and unbelievers.
Session 4: Serving the Lord Using Your Spiritual Gifts
Description: Join us as we unwrap the various spiritual gifts from a service-oriented perspective. We will also highlight and connect you with service opportunities at Immanuel!
Registration Costs
Registration opens January 10th.
Early Bird Rate (Available until February 15, 2021): $40, Student Rate $20
Regular Rate: $45, Student Rate $25
At the door: $55, Student Rate $25
Registration rates include lunch on Saturday, snacks and other refreshments.
You will be asked to choose from the following lunch options during registration:
Traditional (poultry)
Gluten-Free and Dairy-Free
Vegetarian
Please don't let the cost of the retreat prevent you from joining us. Partial scholarships are available. Contact
This email address is being protected from spambots. You need JavaScript enabled to view it.
to apply.
Frequently Asked Questions (FAQs):
WHO MAY ATTEND?
All women High School age and up are welcome to attend. Please invite your friends, family, and neighbors -- all women are welcome! (We will not have childcare. We love children but this is a women-only event – nursing infants are welcome.)
HOW AND WHEN DO I REGISTER?
There are two options for registration beginning January 10th:
Fill out the form linked on this page to register online.
Go to the IBC Bookstore to register.
WHAT SHOULD I BRING?
Don't forget your Bible, notebook, pen, an open mind, and an open heart.
WHAT ARE YOU DOING ABOUT HEALTH & SAFETY?
We will follow the church guidelines at the time of the event.
WILL YOU LIVESTREAM THIS EVENT?
We are planning and praying for a safe in-person event this March. We do not plan to livestream the conference. We are closely following local guidelines and church leadership direction and will adjust, should the situation dictate a change. We plan to record the main teaching sessions of the conference and will make those available on the website as soon as possible after the event.
HOW SHOULD I DRESS?
Casual! Jeans are fine, dresses are fine -- whatever makes you most comfortable.
WHAT IS INCLUDED WITH REGISTRATION?
Access to the sessions and related materials is included with your registration. You'll also have access to the breakout sessions on Saturday after lunch. Sign up for a breakout session near the registration desk when you check in.
We will have a dessert reception on Friday following the evening session. A boxed lunch on Saturday is also included with the registration fee. Other refreshments will be available throughout the conference, in accordance with church health and safety guidelines.
HOW CAN I VOLUNTEER?
Please indicate your interest in volunteering when you register. You can also e-mail This email address is being protected from spambots. You need JavaScript enabled to view it. to let us know about your interest in helping out.
WILL I RECEIVE A CONFIRMATION AFTER REGISTRATION?
You will receive an e-mail confirmation after your registration has been processed. Final event details will be emailed a week or so before the retreat.


Questions?
Reach out to
This email address is being protected from spambots. You need JavaScript enabled to view it.
and we will get you a response.