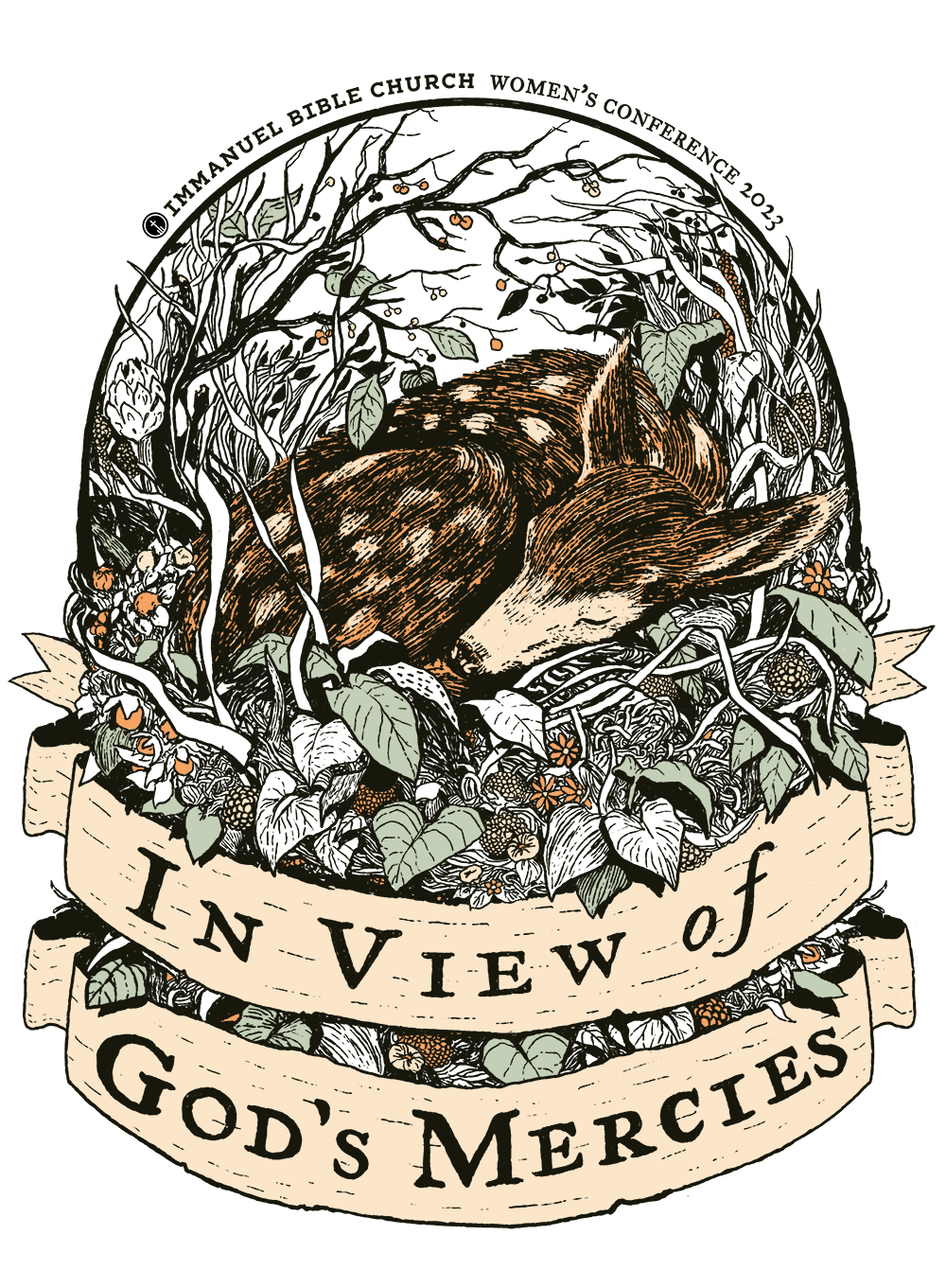 Women's Conference
March 17-18, 2023

"In View of God's Mercies"


Join the women of Immanuel Bible Church on March 17-18, 2023 for our spring conference. We'll hear from author, podcaster, and speaker Courtney Doctor who will teach us about God's mercies from the book of Romans. We will join together in worship led by special guest Jessa Anderson. We will also participate in breakout sessions and enjoy a cookies & milk reception on Friday and lunch together on Saturday. The conference is an exciting opportunity to learn, grow, and fellowship together– and we hope to see you there!
Early bird rate available through February 20
Registration closes March 15
THEME: "IN VIEW OF GOD'S MERCIES"
Romans is an incredibly rich letter written by a man who was completely captured by the beauty and majesty of God and his glorious salvation. Paul wanted his readers (then and now) to know how amazing and all-encompassing the gospel of Jesus Christ is—and that it's meant to do more than change our eternal futures; it's meant to change our present realities.
Like the church in Rome, we desperately need the gospel to unite us and transform us more into the image of Jesus—both individually and corporately. And we need the gospel to compel us to join God on his mission to seek and save the lost in our families, neighborhoods, cities, nations, and throughout the world. As we study this glorious letter together, my hope is that we will better know the gospel, believe the gospel, and be equipped to share the gospel to the ends of the earth.
I appeal to you therefore, brothers, by the mercies of God, to present your bodies as a living sacrifice, holy and acceptable to God, which is your spiritual worship.
--Romans 12:1
Meet Our Speaker
Courtney Doctor is an author, Bible teacher, frequent conference and retreat speaker, and periodic blogger. She received an MDiv from Covenant Theological Seminary in 2013 and is the author of From Garden to Glory: A Bible Study on the Bible's Story (2016); Steadfast: A Devotional Bible Study on the Book of James (2019); and In View of God's Mercies: The Gift of the Gospel in Romans (2022). She currently serves as the Coordinator of Women's Initiatives for The Gospel Coalition. Her greatest desire in all of this is to be able to faithfully study, apply, and teach the word of God and help others to do the same.
God has blessed Courtney and her husband, Craig, with four wonderful children, two amazing daughters-in-law, five sweet grandchildren — and their much-loved, goofy dog, Walter. Find out more about her and the resources she offers online at www.courtneydoctor.org.
For some inspiration ahead of the conference, check out this podcast featuring Courtney Doctor and Hunter Beless (founder of Journeywoman Podcast) from Spring 2022 when the two discussed the importance of regularly rehearsing the truth of God's word: https://journeywomenpodcast.com/episode/say-it.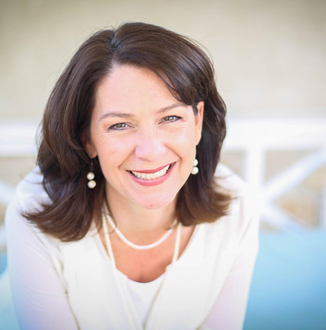 Meet Our Worship Leader
Jessa Anderson (of Jordan and Jessa) - After more than a decade of solo albums and EPs, touring the country, and leading worship together in the local church, Jordan and Jessa Anderson have come together to create their latest album, Glorious.
After meeting and marrying young, the couple pursued their shared love of music and songwriting, releasing their first solo projects in 2008. Their experience over the past 14 years of leading others in song and performing their original music, combined with their time in ministry to the local church, has given them a unique love for church music and encouraging others in the gospel through song.
Their desire is that their gospel-centered music will provide deep encouragement to the church body in our daily pursuit of Christ. Between tours, you can find Jordan and Jessa at home in Nashville, Tenn. with their children: Lorelei, Jagger, Sylvie, and Haddie.
We are thrilled to welcome Jessa to lead us in worship and share some of the duo's original songs. To learn more about Jessa and hear some of her music, visit her website: https://www.jordanandjessa.com/home.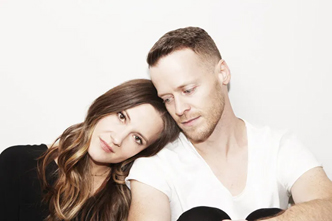 Registration Costs
Special Opening Day Rate (Jan 8, 2023 ONLY!): $50 regular registration
Early Bird Rate (through Feb. 20): $55, Student Rate $25
Regular Rate: $65, Student Rate $30
The Early Bird registration rate is available from January 9 to February 20. Registration closes March 15, 2023. Be sure to sign up now!
Registration rates include all main worship and teaching sessions, breakout sessions, snacks and other refreshments, a milk & cookie reception Friday evening, and lunch on Saturday.
Please don't let the cost of the conference prevent you from joining us. Partial scholarships are available. Contact This email address is being protected from spambots. You need JavaScript enabled to view it. to apply.
If you need to cancel your registration for any reason, you may do so with a full refund through March 10, 2023. Please contact This email address is being protected from spambots. You need JavaScript enabled to view it. to cancel, if needed.
Conference Agenda
*These times are offered as a guide for your planning purposes and are subject to change.
Friday, March 17
| | |
| --- | --- |
| 6:30 pm | Doors open |
| 7:30 pm | Session 1 with Jessa Anderson and Courtney Doctor |
| 9:00 pm | Milk and Cookies reception |

Saturday, March 18
| | |
| --- | --- |
| 8:30 am | Doors open |
| 9:00 am | Session 2 with Jessa Anderson and Courtney Doctor |
| 10:15 am | Break with light refreshments |
| 10:40 am | Breakout Sessions |
| 12:00 pm | Lunch |
| 1:00 pm | Session 3 with Jessa Anderson and Courtney Doctor |
| 2:30 pm | Official conference close |
Breakout Sessions
You'll have an opportunity on Friday evening to sign up for your breakout session near the check-in desk in the lobby. Breakout speakers and room information will be provided in your conference folder and at the breakout session sign-up table.
Here are this year's breakout session topics and descriptions:
Creation Science: Refuting the Theory of Evolution
In this day and age, evolution is taught and accepted as fact. This session will provide a defense of the Biblical record of the origins of the universe and life itself.
Finishing Strong: Faithful & Purposeful Living
Society tells us that after years of hard work, we deserve to indulge in some rest and relaxation. This session will challenge that notion and exhort us as believers to invest our later years wisely and for God's glory.
Engaging the Culture with Grace and Truth
It has become increasingly difficult to say or do anything without offending someone. This panel of women will discuss the challenges of living out our faith and engaging those in our sphere of influence with grace and truth.
Old Testament Survey
This session will provide an overview of the Old Testament which was the Bible used by Jesus and the early church. The Old Testament provides a critical foundation for accurately understanding the New Testament, God, and His redemptive work in history.
Speaker Q&A
Join our conference speaker, Courtney Doctor, for a moderated question and answer session.
Overnight Hotel Option
We're trying something new this year to give women an opportunity for additional fellowship and fun! We've reserved a block of rooms at a nearby hotel. Women who are interested can book one of the rooms in the block and stay over on Friday evening of the conference. We will have optional gatherings for games, discussion, breakfast on Saturday morning, and more!
All reservations, payment, and transportation to and from the hotel are on you to arrange. Please contact the hotel directly, if you are interested in one of the rooms in the block, and mention "Immanuel Bible Church". Reservations for the room block must be made by Feb 15, 2023.
Hotel:
Homewood Suites by Hilton, 7010 Old Keene Mill Road, Springfield, VA 22150
Reservations:
1-800-CALL HOME or 703-866-6045
Hotel Website:
www.springfieldva.homewoodsuites.com

Room Rates:
Studio Suite with 1 King- $139/night
1 Bedroom Suite with 2 Queens- $159/night
All rooms are subject to applicable taxes (not included in the rates above) and include complimentary breakfast, parking, and WiFi.
Volunteers
We can always use willing hands to help the conference run as smoothly as possible.
If you can help, select 'volunteer' on your registration form, email us at This email address is being protected from spambots. You need JavaScript enabled to view it., or visit the Women's Ministry table in the Atrium between Sunday services to get more information and sign up to help out!
FREQUENTLY ASKED QUESTIONS (FAQs)
WHO MAY ATTEND?
All women of Middle & High School age and up are welcome to attend. Please invite your friends, family, and neighbors -- all women are welcome! (We will not have childcare. We love children but this is a women-only event – nursing infants are welcome.)
WHAT CAN I EXPECT WITH THIS EVENT?
Our weekend begins on Friday night with doors opening around 6:30pm. Upon arrival, proceed directly to the conference check-in table in the church Lobby. At check-in, you will receive a folder with important information for the conference, including a map of the church.
Directly following folder pickup, be sure to visit the breakout registration table where you will be able to sign up for a session. Conference planners will be available at the table to answer questions about the sessions.
See the conference agenda for a full schedule.

HOW AND WHEN DO I REGISTER?
There are three options for registration beginning January 8th:
Fill out the form at the link or use the QR code on any of our handouts to register online.
Go to the IBC Bookstore to register.
Register in person at the women's ministry table in the Atrium between Sunday services.
WHAT SHOULD I BRING?
Don't forget your Bible, notebook, pen, an open mind, and an open heart.
HOW SHOULD I DRESS?
Casual! Jeans are fine, dresses are fine -- whatever makes you most comfortable.
WHAT MEALS ARE INCLUDED WITH REGISTRATION?
Lunch on Saturday is included with the registration fee. We will also have a cookie reception on Friday following the evening session. Coffee and other refreshments will be available throughout the conference.
You will review and select your lunch option during the registration process. Our caterer has offered selections that accommodate various dietary needs to the best of their ability.
WILL I RECEIVE A CONFIRMATION AFTER REGISTRATION?
You will receive an email confirmation after your registration has been processed. Final event details will be emailed a week or so before the conference.
WILL THE SESSIONS BE LIVESTREAMED OR RECORDED?
We hope everyone who wants to join is able to attend, but we know that's not always the case. The conference will not be livestreamed; however, we will record the sessions and post them to this webpage as soon as we're able after the conference.
WILL THE IMMANUEL CHRISTIAN BOOKSTORE BE OPEN DURING THE CONFERENCE?
Yes. The Bookstore will be open during check-in and the cookie reception Friday evening, during breaks and for a short time after the last session on Saturday.
The Bookstore offers a special discount to attendees during the conference, so be sure to visit them and check out the wonderful biblical resources and gifts they have to offer!
WILL THERE BE A SPACE WHERE I WILL FEEL COMFORTABLE IF I HAVE HEALTH CONCERNS OR A NURSING INFANT?
We will have our balcony open where there is plenty of space to spread out. We also offer a nursing mother's room down the hallway off the Lobby near Door 2 (Backlick Rd. Entrance).
Questions?
Reach out to This email address is being protected from spambots. You need JavaScript enabled to view it. and we will get you a response.