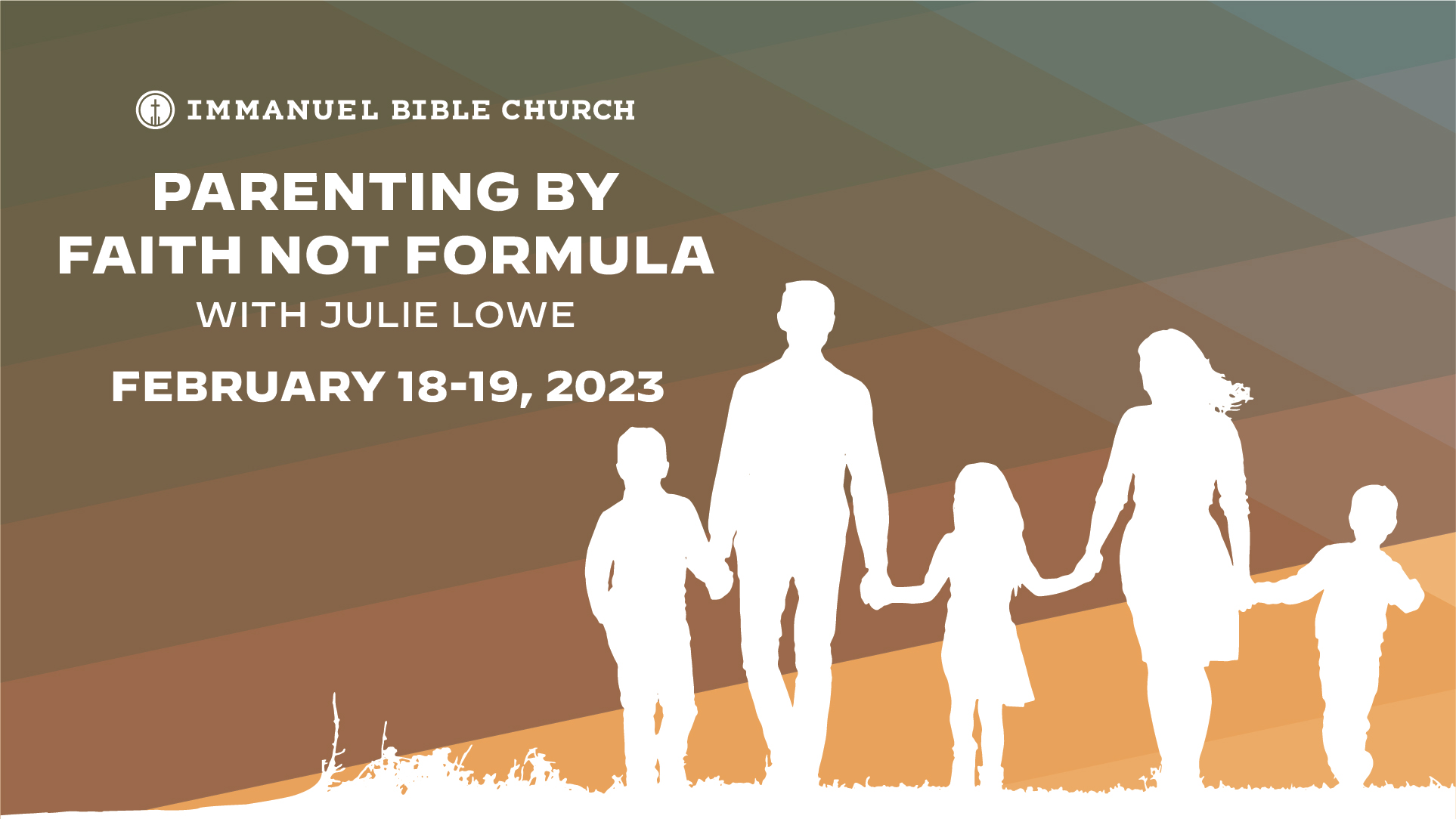 Join us for this weekend conference as Julie Lowe, counselor and faculty member from CCEF, talks about freedom: Freedom from the "ideal" family, parenting formulas, guilt, fear; and freedom to implement all that you know of a personal relationship with Christ and his family into your own family.
*These times are offered as a guide for your planning purposes and are subject to change.
Saturday, February 18
8:30am
Check-in opens for parents and children
9:00am
Worship and Session 1 for parents
WBS begins for children 1st-6th grade
10:15am
Refreshment break for parents
10:30am
Session 2 for parents
11:30am
WBS and Session 2 end
Child pick-up from WBS
11:45am
Optional Chick-Fil-A lunch
12:45pm
Session 3 for parents and teens (no childcare provided)
1:45pm
Q&A with Julie Lowe for parents
Teen game time
3:00pm
End of conference
Sunday, February 19
9:00am
Free Session 4 with Julie Lowe for parents
Childcare provided through normal IBC Sunday morning KStation
ABOUT JULIE LOWE:
Julie is a counselor and faculty lecturer at CCEF & WTS. She holds a Master of Arts in Counseling from Biblical Theological Seminary and is a licensed professional counselor with over twenty-two years of counseling experience including play therapy. She has extensive experience with marriage, women's issues, sexual abuse, body image, parenting, and child maltreatment issues. She regularly speaks on these topics. Julie's books include Childproof, Building Bridges, Helping Your Anxious Child, Teens and Suicide, and Safeguards. Julie and her husband, Greg, have six children and serve as foster and adoptive parents.
What is the cost?
$10/single adult attending, or $15/couple
$5/child birth -6th grade until January 30th, then price will increase to $10/child
Free for teens!
What is for lunch?
Parents and kids will have the option to add a Chick-Fil-A boxed lunch to their registration at $7/box. The boxes include an entrée, chips, and cookie. Various drinks will also be provided with lunch. Teens will receive a free lunch of a Chick-Fil-A sandwich, chips, cookie, and drink.
Snacks and drinks are provided during the break time for children, teens, and parents
Will the sessions be recorded?
Recordings will be made available to all registrants after the conference. If you are unable to attend the conference in person but want access to the recordings, please go through the normal registration process and include a note that you are requesting recordings only.
Will  the Bookstore be open?
Yes! The bookstore will be open and stocked with Julie's books, so head there during your breaks if there are any topics you want to read more about. 
What will parents do?
Parents will attend Sessions 1 and 2 in the morning in the Worship Center with worship led by ISM students, then break for lunch. We will provide a boxed Chick-Fil-A lunch for $7 (available at registration) or you can bring your own or go off campus. Session 3 will be at 1pm in the afternoon and parents will be joined by the ISM teens for a joint parent/teen session. Following Session 3, the parents will have an opportunity for Q&A with Julie. Parents can then return on Sunday morning at 9am for a final session with Julie in the Gym. The conference will be recorded but not live streamed. Recordings will be made available to those registered in the weeks after the conference.
Note: Our childcare for children ages birth through Kindergarten (five years old) is full.
What will children birth-6th grade do?
It's time for the winter version of VBS – WBS (Winter Bible School)! Children birth through Kindergarten will be taken care of in our nursery rooms with activities, snacks, and lots of care. 1st-6th grade will participate in their own WBS from 9am-12pm that looks a little like summer VBS. There will be games, singing, crafts, snacks, and Bible lessons, all led by the ISM students and their small group leaders. Children will be picked up at 11:45am, and we encourage you to take advantage of the Chick-Fil-A lunch option or even pack your own to spend time with others during lunch. Parents are welcome back for the third session at 1pm on Saturday afternoon, but no childcare will be provided. Childcare and space in the WBS is limited and available on a first come/first served basis.
What will teens do?
Serve the church, spend time with friends, and hear from the speaker! Teens can sign up to help serve at the morning WBS acting as teen leaders, running games, crafts, and more. Lunch will be provided for the teens who serve and after lunch, teens join their parents for Session 3 of the conference. Following the session, teens will head to the gym for game time. Did we mention all of this is free to any teen who serves for the morning?