New to Immanuel?
If you are new to Immanuel and you have questions about KStation, please contact Kelley Pinzon.
Be Part of the KStation Community
Volunteer recruitment is underway and we'd love for you to be part of our KStation team! We have needs in every KStation department, Nursery–6th grades. Check out our KStation volunteer needs here. Contact Jenny Britton, This email address is being protected from spambots. You need JavaScript enabled to view it., for more information.
2021-22 Registration for AWANA and Annual Re-registration for KStation
Registration for AWANA 2021-22
Registration for the 2021-22 Club opens today. Our "earlybird" registration rate is available from 8/1-8/7. Our regular registration rate applies after that.
Mark your calendar: Our 2nd annual AWANA Open House will be Sunday, August 29, 5pm, Gym.
Re-registration for Next Generation/ISM/KStation
It's almost time to re-register your family for the 2021-22 year. Registration will open on 8/4/2021. An email with information on how to do this will be sent with links to "re-register" your family in our church database. You'll be able to confirm your child's classes for the school year and update any personal information that has changed since 2019. This is required for all families with children in KStation and ISM.
Upcoming Events
Promotion Sunday, September 5, 2021
All children who are 2 and older will promote to their next class. The birthdate cutoff for promotion is September 30, 2021.


AWANA Clubs begin meeting on Sunday evenings at 5:00pm starting on September 12, 2021.
Curriculum
We use The Gospel Project for Kids Curriculum for kids from our 2 and 3 year olds all the way up to 6th Grade. Each age group is taught the same lesson in a developmentally appropriate way! TGPK teaches the entire Bible from Genesis to Revelation and kids are taught that Scripture is one interconnected story about God's promise of salvation through His Son Jesus Christ. We love that!
July 25
Fort Totten & Friendship Heights (2yr-PreK): Bible Lessons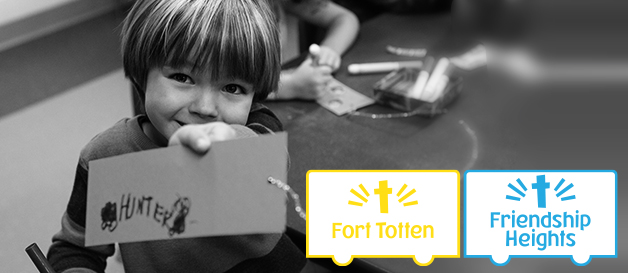 Bring it Home - for Parents


This is full of discussion questions and family activities that help reinforce the Bible lesson.
Spotify Playlist:
Downtown & Oldtown (1st-6th grades): Bible Lessons
Union Station Family Production