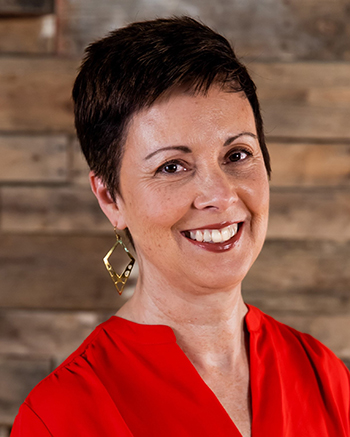 Welcome to Women's Ministry! I am excited to serve with the women of Immanuel. Our goal is encouraging all women to be faithful followers of Christ who:
 Read God's Word
 Love God's Word
 Obey God's Word
 Proclaim God's Word
Let the Word of Christ dwell in you richly, teaching and admonishing one another in all wisdom, singing psalms and hymns and spiritual songs, with thankfulness in your hearts to God. And whatever you do, in word or deed, do everything in the name of the Lord Jesus, giving thanks to God the Father through him.
—Colossians 3:16-17
Bethany Drum, Director of Women's Ministry
---
Sweet Sunday
Register now and join us on August 30th for Sweet Sunday, our kickoff for the new year of ministry.
---
Fall 2020 Bible Studies
Listing coming soon!
---
Women's Fall Conference
October 23-24
We are excited to welcome Cindy Easley and her daughter Hanna Easley Seymour to be our speakers for the conference. They will be teaching from Romans 12 on  Living Transformed in a Broken Culture.

---
Spiritual Mentoring
Our goal is to give the women of Immanuel Bible Church the opportunity to experience growth in their Christian lives by participating in one-on-one supportive and encouraging mentoring relationships. Spiritual Mentoring is an intentional relationship between spiritually older and younger women designed to support and encourage younger women to follow God in their relationships, character and priorities (Titus 2:4,5) through being a godly role model, sharing life experiences and applying knowledge of the Scriptures.  While the cycle for pairing our mentors and mentees normally runs from October through April, we hope to pair new mentees during the year as mentors are available. If you are interested in participating, please read for more information.
---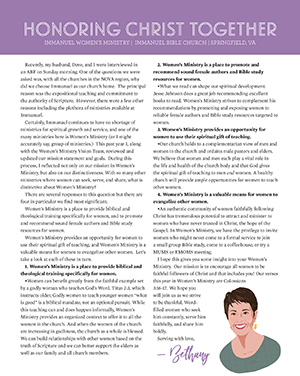 Honoring Christ Together
The Spring edition of our Women's Ministry Newsletter has been mailed out, or you can read it online here. 
---
Leewood Nursing Home Ministry
Every week for the past ten years women from Immanuel have been faithfully sharing God's Word and encouraging residents of Leewood Nursing Home just down the street from Immanuel.  If you have a heart of mercy and compassion for those who are shut in and can give a little time each month, we need you!  There are several ways you can serve:  help lead a short devotional or Bible study, help with the residents during the study time, share a song or play an instrument (they love music!), visit residents at other times during the week.  If you would like to find out more or offer to help, please contact the Women's Ministry Office, 703-813-1955 or email us at  This email address is being protected from spambots. You need JavaScript enabled to view it..
The more we understand God's love for us the more love we'll share to others. --Randy Kilgore
---

Women's Ministry Vision Team
Did you know that Women's Ministry has a Vision Team?  The Vision Team exists to prayerfully and strategically determine vision and planning for Women's Ministry by evaluating the effectiveness of ministries and events, setting direction for current and future events and ministries, and assessing the changing dynamics and needs of women at Immanuel Bible Church.  We meet monthly and welcome your prayers and feedback. Contact Women's Ministry Director Bethany Drum

---
Women's Ministry Prayer Team
"Call to me and I will answer you and show you great and mighty things, which you do not know." Jeremiah 33:3
We believe that God does this every time we pray – God hears and answers our prayers according to His will.  On the first Monday of every month, a team of women meet to worship God in prayer and pray for the leadership of Immanuel, Women's Ministry and specific requests of women.  Before the retreat this spring, the Prayer Team prayed for each of the 220 women by name.  Prayer is the essential ministry for without this dependence on God, we cannot expect any blessing. 
If you have a confidential request that you would like the Women's Ministry Prayer Team to pray for, please email it to This email address is being protected from spambots. You need JavaScript enabled to view it.. Requests can be sent at any time. Click here to find additional prayer resources.
Prayer Team:
Debbie Upchurch – Coordinator
Cindy Benson
Millie Woleslagle