Opportunities at IBC
IBC English as a Second Language Ministry
The mission field comes to Immanuel to learn English. Immanuel's ESL Ministry serves 35-70 adults from 20+ countries - some that don't accept missionaries. Students come to Immanuel for class twice a week in the morning or evening. Volunteers serve once a week as teachers, classroom helpers, greeters, Bible Time teachers, substitute teachers and in administrative capacities. Requirements are that volunteers speak English, love God, and love people. Training and curriculum are provided. New classes start every fall and winter and small group Bible classes are offered in the spring. The need for helpers and teachers is constant.  Contact: Sara Ortiz, This email address is being protected from spambots. You need JavaScript enabled to view it.
Opportunities for Central Union Mission
Mission Muffins Are Back!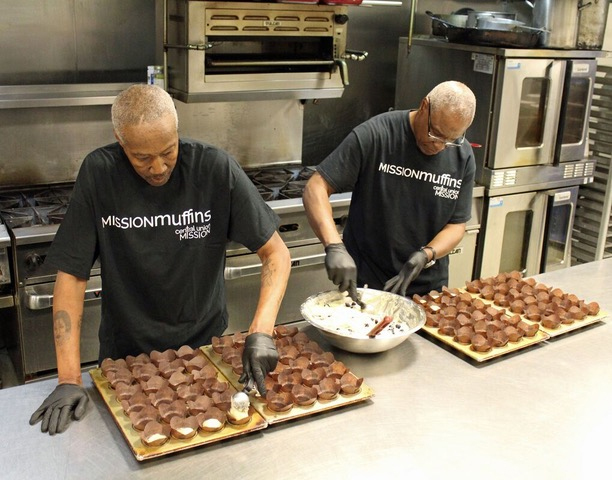 As part of Central Union Mission's Ready 2 Cook program, our employees learn baking, retail, and business skills that help make them ready for the job market. We believe we can replace dependence ("Will Work for Food") with responsibility ("Will Work for My Future"), pairing the employee's potential with his determination to succeed. Every time you purchase one of our delicious products, you are helping to train and equip a homeless or employment-challenged individual to return to society.
Place your order online by Wednesday, March 31. Orders will be available outside the IBC Bookstore after the 9am service on April 4. (For May, place orders by Wednesday, April 28 for pick up on May 2.)
Central Union Mission Shelter Needs Sheets & Towels
The shelter overnight guest population is growing once again. There is an immediate need for white twin sheet sets, standard pillow cases and bath towels. Donations are needed by April 12th. Contact This email address is being protected from spambots. You need JavaScript enabled to view it. to help out!
Camp Bennett Counselors
Central Union Mission is offering a unique paid opportunity this summer at Camp Bennett in Brookeville, MD. Counselors are needed, ages 18-26, with lots of energy and excitement to share the gospel. Camp will run Monday-Friday, June 21 through August 13. Counselors are allowed to go home for the weekend, but they are also allowed to stay on campus on weekends if desired. Learn more about Camp Bennett at campbennett.org. Contact Camp Director Michael Tate, 301-327-3313, to learn more and to apply for a position this summer.
Central Union Mission Family Ministry Center
Non-perishable Food & Gift Card Donations
The FMC is serving twice as many families during the pandemic. Please drop non-perishable food items in the Mission bin in the Atrium any Sunday. Gift cards for Amazon and Giant are given to elderly and single parent households with children attending school virtually. It allows them to order their food online to be delivered. Mail gift cards to: Family Ministry Center, Attn: Tracy Duncan, 3194 Bladensburg Rd., Ste. B, Washington, D.C. 20018.
Bible Verse Writing Rally
Organize a verse-writing rally with your family at home to encourage those less fortunate. Bible verse cards are a great encouragement to the low-income neighbors who receive services from the Mission. All you have to do is:
Write out Bible verses of encouragement on 3x5 index cards, one verse per card. Do not list any personal information.
Mail the stack of cards to Central Union Mission, P.O. Box 96763, Washington, DC 20090