MUMS stands for Moms Uplifting Moms in the preschool years. We are Moms with kids from pregnancy through kindergarten age who want to encourage, nurture, and refresh one another, making our mothering substantial. MUMS is a resource for information on mommy-hood and a wonderful network for building relationships with other moms.
Immanuel Bible Church's MUMS meets once a month from 7-9pm. We do not have childcare during our meetings; we love our kids, but this is a moms-only night (nursing infants are welcome, though). We have good food, great speakers, and quality time for round-table discussion in small groups. We have a wide range of ages, backgrounds, lifestyles, and children, but we all share a desire to be the best mothers we can be. Our speakers and our mentors are top-notch women who recognize how important the years from infancy through kindergarten are for kids and their moms. We also have special activities throughout the year, both for moms and for their young ones, helping build relationships with one another.
At a time when it is normal to feel tired, overwhelmed, and under appreciated, MUMS is a place where we can come together with other moms for friendship, support and encouragement! We hope you join us this year!
Meetings are held in Room A207 at Immanuel Bible Church, 7–9pm.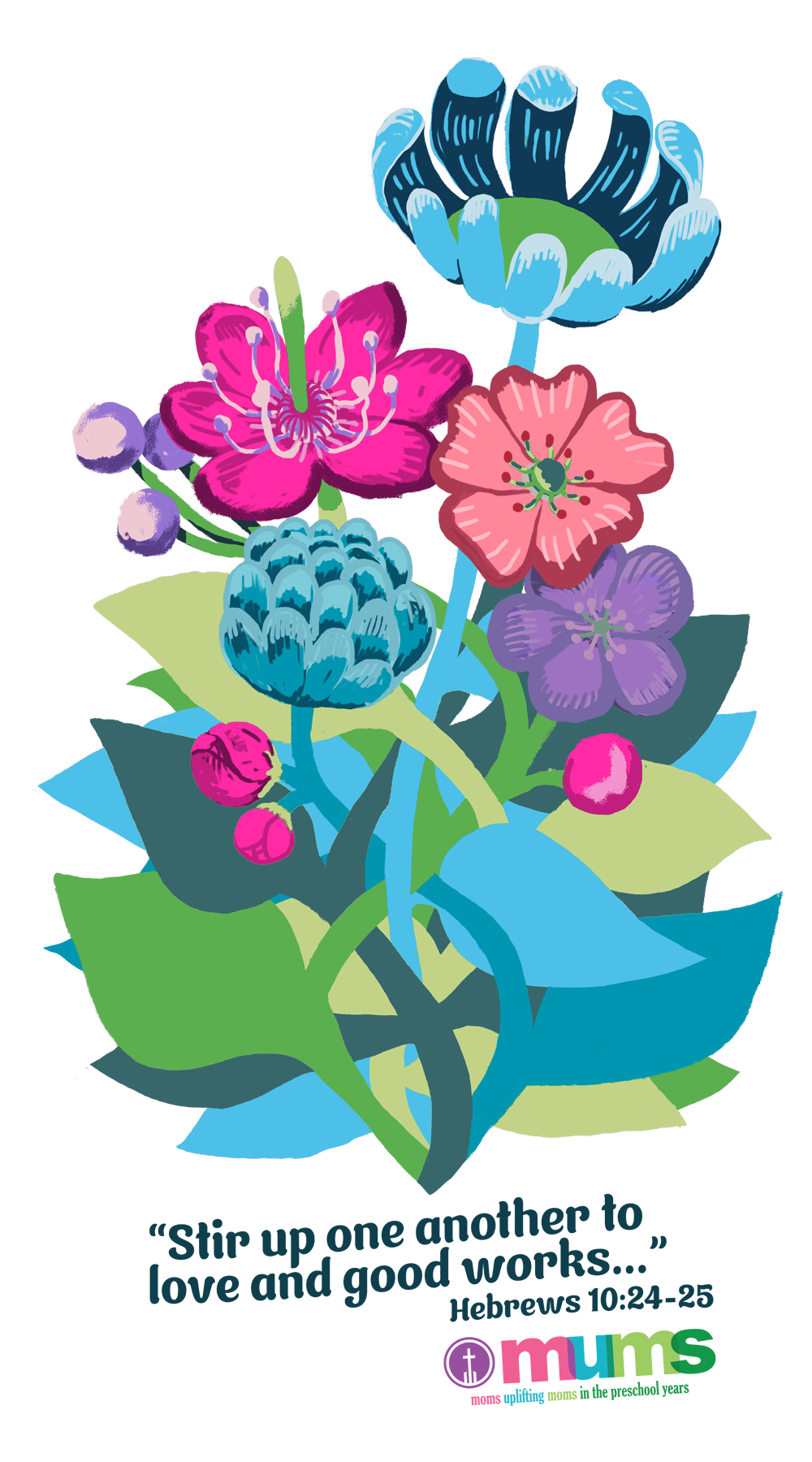 This Year's Theme
"Stir up one another to love and good works..."
--Hebrews 10:24-25
Meeting Format
The following will give you an idea of what goes on at our meetings:
7pm Arrive / Greet / Eat
When you arrive, you are assigned to a small group table of moms. This enables more intimate discussions and fellowship throughout the year. The meeting starts at 7:00 with 15 minutes to get some food and have time to fellowship.
7:15 Announcements / Games / Giveaways
This is the time to find out about upcoming activities, and other housekeeping items. There are sometimes prizes and giveaways (if you're interested in advertising your home-based business, please let us know), and we usually play an ice breaker game or two.
7:45 Speaker
Sample topics include: a positive approach on discipline, teamwork in marriage, how to nurture your child's character, or finding spiritual time alone. The speakers may be the wives of our pastors at IBC, or we may have a local or national speaker. They will give you a biblical perspective on the issues that moms face every day.
8:35 Wrap-Up
After the speaker, there is time for discussion and mingling with your table before closing at 9:00.
MUMS Mentor Moms
Each table is assigned a MUMS Mentor Mom. This is a mother whose children are grown, and has volunteered to be actively involved in the lives of younger mothers. They are a great source of information and advice. There are several fun moms nights scheduled with the MUMS mentor moms. This allows you a chance to get to know them and ask questions about your experiences.
Resources and FAQS
WHAT DOES THE NEW LOGO STAND FOR? MUMS stands for Moms Uplifting Moms in the preschool years.  We are Moms who want to encourage, nurture, and refresh one another.  Our speakers and Mentor Moms are women who uplift us and help us see how the Gospel affects our mothering.  MUMS is a place where we find true hope and come together to make our mothering substantial.
WHY SWITCH FROM MOPS TO MUMS?  Good question!  While we have appreciated the partnership and support MOPS has provided in the past, our leadership team has been increasingly concerned about what appears to be a shift in direction and emphasis over the past few years in MOPS International.  Our mission for our group at Immanuel is to encourage and uplift moms by pointing them to the hope of the Gospel.  Sadly, it seems to us that the Gospel has been increasingly obscured in what we see coming from MOPS.  It is the hope of Christ in us that will change how we mother.  We find that hope missing, hidden, or obscured in what we have seen in the last few years.  Accordingly, we made the painful decision to not renew our charter with MOPS for the coming year.  This was not a quick or reactionary decision but one we prayed over and discussed for some time.  We take quite seriously our mission to shepherd and encourage moms.  We cannot continue to partner with an organization that seems to be struggling to define and defend truth.
IS THIS FOR ALL MOMS?   While we have a wide range of ages, backgrounds, and children, this is a group for moms with kids from pregnancy through kindergarten age.  Immanuel has another wonderful group for moms with kids in the elementary years – EMOMS.
WHAT WILL THE MONTHLY MEETINGS LOOK LIKE?  Our meetings include a meal together, uplifting speakers, and discussion time in a small group with other moms in the same season of life.  Each small group has its own Mentor Mom to encourage and support us during these important years of mothering.  In addition to the monthly meetings, we have periodic special activities for fellowship and fun.
HOW DO I REGISTER?  You can register online here.  Registration is only $20 for the whole year!  That works out to less than $3 per meeting.  If you will only be able to make a few meetings, we will have walk-in registration available for $5 per meeting.
Questions? Contact us at: This email address is being protected from spambots. You need JavaScript enabled to view it.