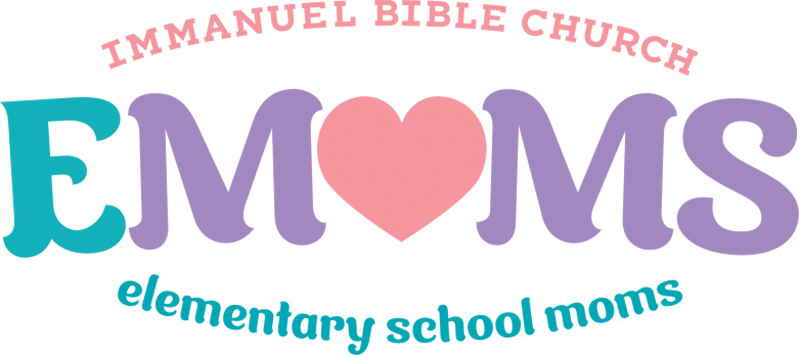 EMOMS is a group of moms in the same busy stage of life – with kids in elementary school. We strive to create a loving, supportive, authentic atmosphere while equipping ourselves with the tools to make our mothering substantial. We do this through our speakers, through our sharing, and through the Word of God…all the while showering grace and love on each other.
EMOMS meets once a month on Wednesday evenings from 7:00-8:30pm. We do not have childcare during our meetings; we love our kids, but this is a moms-only night. We have light refreshments, great speakers, and time for discussion in small groups. We have a wide range of ages, backgrounds, lifestyles, and children, but we all share a desire to be the best mothers we can be. During the elementary years, our kids are becoming more independent, they have more external influences, and they have more challenging questions. EMOMS exists to provide speakers and discussion with other moms that will help us navigate these elementary years.
At a time when we find ourselves running in so many directions, EMOMS is a place where we can slow down, share a cup of coffee or tea with other moms, and find support, friendship and encouragement! We hope you join us this year!
Meetings are held in Room A207 at Immanuel Bible Church, from 7:00-8:30pm. Please use Entrance #1 (Braddock Road Entrance) to enter the building; the stairwell is on your left as you enter the Lobby. 
THIS YEAR'S THEME
Building a Firm Foundation
Proverbs 24:3
By wisdom a house is built,
and by understanding it is established;
by knowledge the rooms are filled
with all precious and pleasant riches.
These are foundational years for our children. We're stepping into years of foundational faith and character building. They understand more, think more, and encounter more. How can we build a firm foundation in their lives? What truths can we instill so their choices have a basis in God's word?
Like early homesteaders investing time into building their physical homes, we need to invest time seeking wisdom from the Lord to build our spiritual homes. The more we grow in our knowledge and understanding of Him, the more our lives will be filled with His precious riches.
Together we'll seek wisdom from the Lord to build our homes grounded in His word as we help our kids establish a foundation in Him.
MEETING FORMAT
The following will give you an idea of what goes on at our meetings
7pm Arrive / Greet / Eat
We are excited to get together, even under unique circumstances! For the time being, we will need to have 'chair groups' instead of table groups. Chairs will be arranged in rows, but we'll make sure you are able to sit near your assigned small group for relationship building and discussion.
7:15 Announcements / Games / Giveaways
7:30 Speaker
Speakers will give you a Biblical perspective on issues moms face every day. Sample topics for this year include spiritual and character development, discipleship, friendship, and marriage.
8:10 Table Time
Table Leaders and Mentor Moms will lead discussion with your small group before closing formally at 8:30. You are welcome to stay and fellowship!