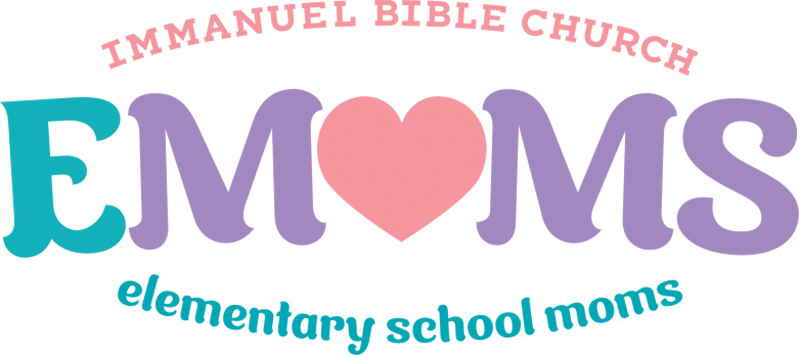 EMOMS is a group of moms in the same busy stage of life – with kids in elementary school. We strive to create a loving, supportive, authentic atmosphere while equipping ourselves with the tools to make our mothering substantial. We do this through our speakers, through our sharing, and through the Word of God…all the while showering grace and love on each other.
EMOMS meets once a month on Wednesday evenings from 7:00-8:30pm. We do not have childcare during our meetings; we love our kids, but this is a moms-only night. We have light refreshments, great speakers, and time for discussion in small groups. We have a wide range of ages, backgrounds, lifestyles, and children, but we all share a desire to be the best mothers we can be. During the elementary years, our kids are becoming more independent, they have more external influences, and they have more challenging questions. EMOMS exists to provide speakers and discussion with other moms that will help us navigate these elementary years.
At a time when we find ourselves running in so many directions, EMOMS is a place where we can slow down, share a cup of coffee or tea with other moms, and find support, friendship and encouragement! We hope you join us this year!
Meetings are held in Room A207 at Immanuel Bible Church, from 7:00-8:30pm. Please use Entrance #1 (Braddock Road Entrance) to enter the building; the stairwell is on your left as you enter the Lobby. 
THIS YEAR'S THEME
Reflecting Christ in Motherhood
Romans 12:2
"Do not conform any longer to the pattern of this world, but be transformed by the renewing of your mind. Then you will be able to test and approve what God's will is--his good, pleasing and perfect will."
Mirrors provide a direct reflection of who we are. It's easy to get trapped by expected images in our culture ... obedient children who excel in school, a fridge of healthy well-balanced foods, and not a gray hair or pair of yoga pants in sight! Is this who we were created to be? And how can we strive to reflect Christ and not the image that the world throws our way? What might it look like to reflect Christ in our home, friendships, worldview, and even rest?
Shifting our focus from the pattern of the world is both intentional and difficult. The word transformed implies a big change, not only outward, but also inward. Renewing our minds is an ongoing task not done by our strength alone. We will spend time this year focusing on how we can directly reflect Christ, who He is, and who we were created to be through our role as mothers.
MEETING FORMAT
The following will give you an idea of what goes on at our meetings
7pm Arrive / Greet / Eat
When you arrive, you are assigned to a small group table of moms. You will have the same Table Leader and Mentor Mom throughout the year. This enables more intimate discussions and fellowship.
7:15 Announcements / Games / Giveaways
7:30 Speaker
Speakers will give you a Biblical perspective on issues moms face every day. Sample topics for this year include image, friendship, worldview, marriage, and character development.
8:10 Table Time
Table Leaders and Mentor Moms will lead discussion with your small group before closing formally at 8:30. You are welcome to stay and fellowship!